Company Rebrands and Launches Practice Development Platform to Help Address the Growing Demand for Medical Imaging Amidst Shortage of Radiologists
[Cincinnati, OH, December 13, 2022] When your company grows its user base by more than 400% in less than three years in a field as discerning as medical imaging, you've got to be doing something right.
That's what MRI Online, the leading learning platform for radiologists, has achieved since it launched in early 2020. What started out as a single MRI course has grown to more than 100 case-based video courses from leading radiology educators and one of the largest volumes of high-quality, peer-reviewed DICOM cases across all key imaging modalities and subspecialties.
That growth and comprehensive scope is reflected in the company's new name: Medality.
According to Daniel Arnold, CEO and Co-Founder, the name change is long overdue and makes it clear that the company is focused on delivering value across medical imaging.
"Our mission is to transform the way radiologists learn and thrive," shared Arnold. "Since we originally launched with MSK MRI, our platform has broadened to help radiologists upskill across all modalities and subspecialties, including high-growth advanced imaging areas such as PET, CT, Ultrasound, Breast Tomosynthesis, and more. We've changed our name to Medality, a combination of medicine and modality, to reflect that expanded scope and our goals for achieving a broader impact for radiologists, referrers, and ultimately patients."
Medality's emergence couldn't have come at a better time. The increase in demand for medical imaging combined with the shortage of radiologists, which was only exacerbated by the pandemic, means that practice leaders and imaging departments are looking for ways to alleviate overworked, burned out radiologists that are increasingly practicing outside of their subspecialty training.
Over 98% of radiologists in the United States are fellowship trained[1], yet the majority (55%) of radiologists now practice in three or more subspecialties[2] and 85% in two or more subspecialties[3].
To address this reality, Medality is launching the first ever Practice Development Platform to help both radiologists and practice leaders. Radiology groups looking to grow their practice, meet increased imaging demands, or invest in their team's skills without significant burden to their workload can benefit from Medality's platform.
Medality's Practice Development Platform helps imaging organizations and radiologists: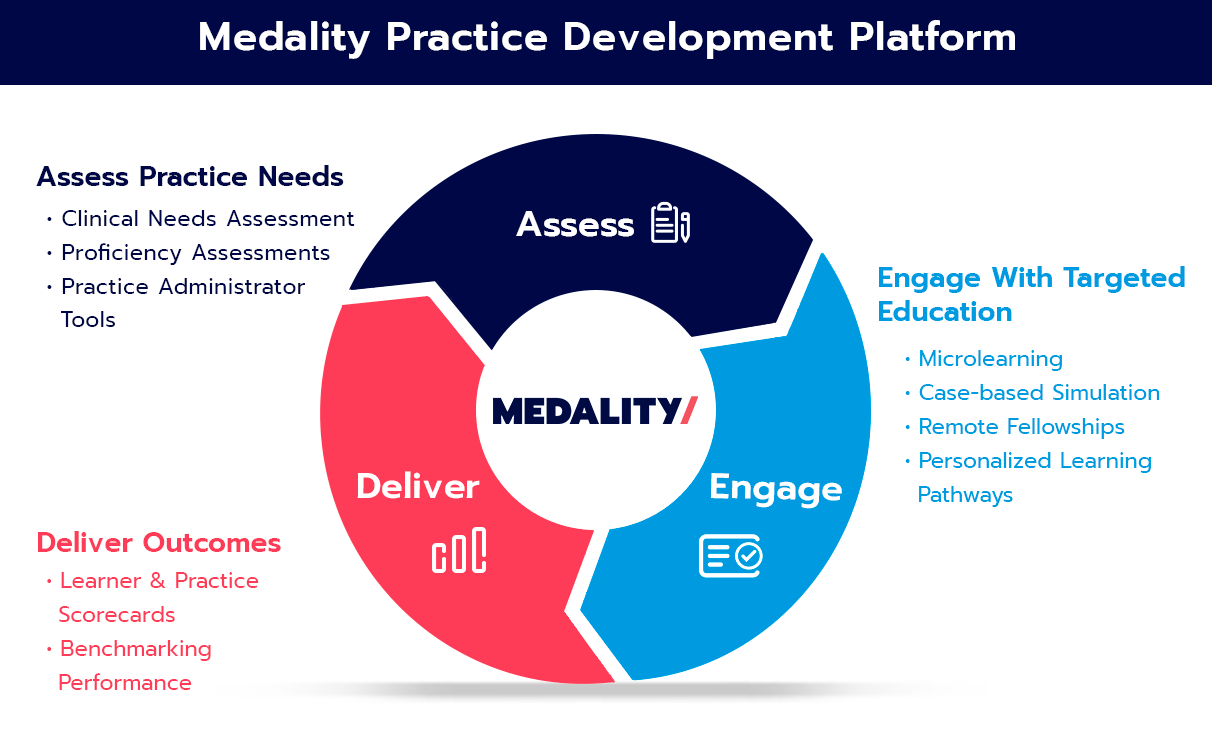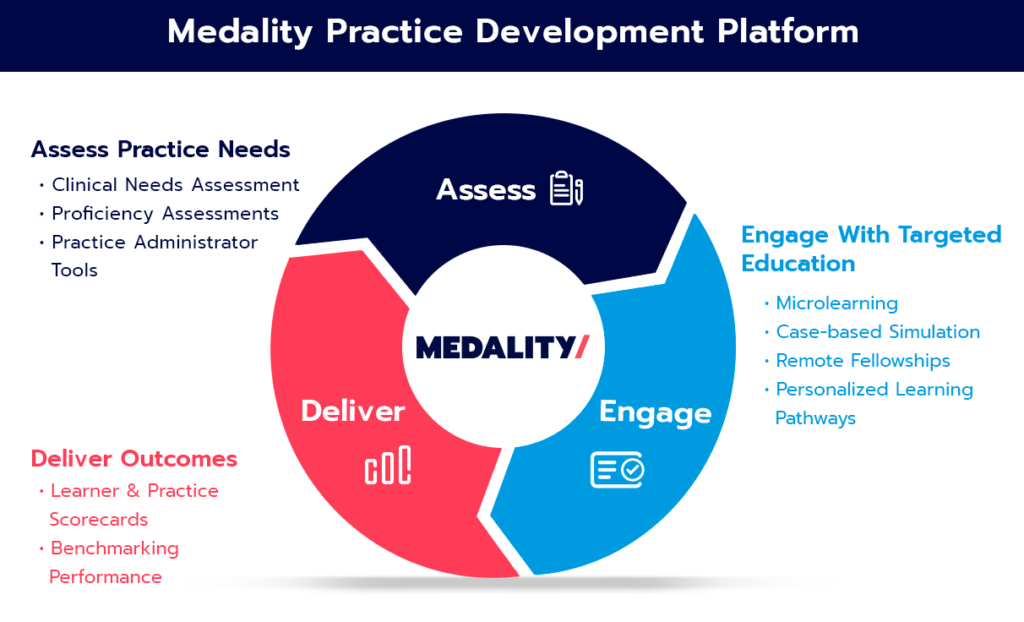 By creating tailored learning pathways, Medality customizes offerings to improve diagnostic quality, reduce turnaround times, and accelerate practice growth by assessing the clinical needs of a practice and identifying practitioners who would benefit from upskilling in targeted areas that the individual needs before they practice.
Throughout the process, Medality gathers performance data as the learners progress through their trainings. With this data, leaders and readers can assess whether they are showcasing demonstrated improvement in accuracy, confidence and efficiency before being placed into a new subspecialty.
With more than 100 courses, 4,000 bite-sized microlearning videos, and over 4,000 integrated, scrollable cases designed to simulate a workstation, Medality offers a flexible practice development solution that radiologists can access anywhere, anytime. Courses are developed in partnership with hundreds of top academic faculty, such as Dr. David Yousem, Dr. Stephen Pomeranz, Dr. Petra Lewis, Dr. Don Resnick, Dr. Rachel Brem, Dr. Suresh Mukherji, Dr. Stefan Zimmerman, and Dr. Lacey McIntosh.
Medality's case-based education is accredited under MRI Online by the Accreditation Council for Continuing Medical Education (ACCME) and totals more than 600 AMA PRA Category 1 Credits™ across its platform. Learners can also earn SA-CME credits that meet the American Board of Radiology requirement for MOC as well as credits for MQSA, SCCT, NASCI, state licensure requirements and more.
For more information, visit www.medality.com.
About Medality
Medality is the leading practice development platform for radiologists and medical imaging organizations. Medality helps thousands of radiologists from over 100 countries upskill in high-growth, advanced imaging areas with case-based microlearning video courses and integrated cases designed to simulate clinical practice from anywhere, anytime. Imaging organizations use Medality to improve diagnostic and reporting quality, reduce turnaround times, and expand their breadth of practice quickly in the areas they need it most. Learn more at www.medality.com.
---
[1] https://www.sciencedirect.com/science/article/abs/pii/S0363018817302098
[2] https://pubs.rsna.org/doi/10.1148/radiol.2017171684
[3] https://www.sciencedirect.com/science/article/abs/pii/S1076633220301057